Community Education
Read more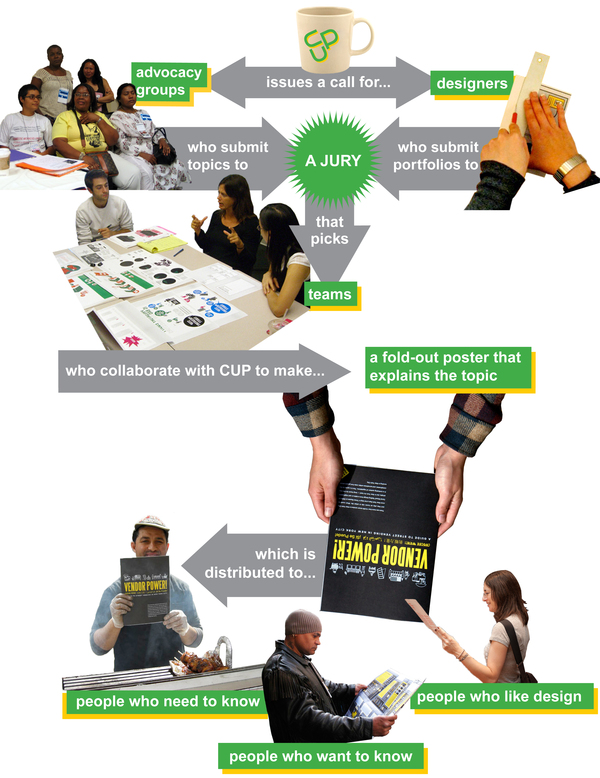 About Making Policy Public
While the effects of public policies can be widespread, the discussion and understanding of these policies are usually not. CUP's Making Policy Public (MPP) poster series aims to make information on policy truly public: accessible, meaningful, and shared. We want to create opportunities for advocacy organizations to reach their constituencies better through design and for designers to engage social issues without sacrificing experimentation.
Once a year, CUP issues a call for groups working to explain complex policy issues to a particular constituency. A jury of design and policy leaders selects four projects that would benefit from a visual explanation, and that would contribute to a positive social justice impact. CUP then issues a call for designers who would like to collaborate on these topics, and the jury selects the final teams.
Over the next several months, CUP manages the collaborative design process, provides art direction, research assistance, and an honorarium for the collaborators. The resulting publications are used by the organizations to better reach their constituencies through innovative design. Because they are portable and use visual explanations to break down complex issues, the publications make policy accessible and interesting to non-experts.
Publications are distributed directly by advocacy partners to their constituents and to other advocates working on the issue. In addition, CUP distributes the posters to audiences interested in art and design. Over 40,000 MPP's have been distributed to date, directly to the people who most need to know about these important issues, from longshore workers to juveniles who have been arrested. The publications are contributing to policy wins and more effective public participation for groups from public housing residents to street vendors. They have also been lauded as models of socially-engaged design at such venues as the Cooper-Hewitt's National Design Triennial.
Buy or download copies of the posters here. If you have any questions about our program or our open calls for advocates and designers, please reach out to info@welcometocup.org.